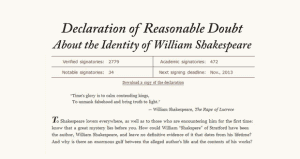 The Shakespeare Authorship Coalition is dedicated to legitimizing the Shakespeare authorship question.
The Declaration of Reasonable Doubt About the Identity of William Shakespeare is available on its website for signing and education.
Signatories include actors Derek Jacobi, Michael York, Mark Rylance, and Jeremy Irons; former U.S. Supreme Court Justices John Paul Stevens and Sandra Day O'Connor; and noted anthropologist Robin Fox.