A Summary of the Doubts
Shakespeare, alone of all the great writers in Western civilization, presents a unique enigma. Despite two hundred years of scholarly attempts to establish the Stratford man's credentials, doubts about the author's identity refuse to go away. As Henry James said, "The facts of Stratford do not 'square' with the plays of genius…"
Despite a massive manhunt going back more than two centuries, not a single letter written in his hand or book he owned has ever been found.

Conditions for the survival of books, manuscripts or other documents could not have been more ideal: New Place remained in the hands of Shakspere's descendents until the 1670s

Shakspere's will, noteworthy for its detailed disposal of household items, contains no mention of books, manuscripts, desk, shelves, pens, paper, or anything suggesting literary interest.
The conditions for the survival of books, manuscripts or other documents definitively linking the Stratford man to the works of Shakespeare could not have been more ideal: New Place in Stratford-upon-Avon remained in the hands of Shakspere's descendents until the 1670s, less than forty years before Nicholas Rowe wrote the first Shakespeare biography.
The only specimens of William Shakspere's handwriting are six almost illegible signatures, each formed differently, and each from the latter period of his life (none earlier than 1612). Three of these signatures are on his will, one is on a deposition in someone else's lawsuit, and two are on property documents.
Shakspere of Stratford did not educate his children. His daughters were illiterate.
In an age of copious eulogies, none was forthcoming when Shakspere died in Stratford.
All of the literary references to William Shakespeare are impersonal and even ambiguous, and may just as easily refer to some unknown person writing under a popular and often-recognized "nom de plume"; conversely the many documents which do exist relating to the Stratford Shakspere fail to indicate that he was even literate! They depict the life of someone who was energetically engaged in business matters and moneylending, but make no reference to writing.

Shakspere of Stratford did not educate his children. His daughters were illiterate.

William Shakspere's son-in-law John Hall kept an extensive journal, in which he wrote of the "excellent Poet" and Warwickshire native Michael Drayton, but he failed to mention his father-in-law's association with the theatre, drama, or literature.
The author of Shakespeare's works had to be familiar with a wide body of knowledge for his time — law (he accurately employs as many as six hundred legal terms), music, foreign languages, the classics, and aristocratic manners and sports. There is no documentation that William Shakspere of Stratford had access to such information. Unlike other major playwrights of the period, he did not attend college or receive legal training.
The life documented in conventional biographies is inconsistent with the life revealed in the plays and poems. William Shaksper of Stratford was a successful businessman, a man of worldly wealth and upward mobility. The plays express a consistent pattern of contempt for the values and attitudes necessary for success in the social milieu in which the alleged author lived. Instead they reflect a distinctively aristocratic social view, as Walt Whitman recognized when he postulated that "one of the Wolfish earls" would seem to be the true author of the history plays.
The case for Edward de Vere, 17th Earl of Oxford as "Shakespeare"
Edward de Vere, 17th Earl of Oxford, was a recognized poet and playwright of great talent, a patron of literature, the theatre and music. He was at the center of English literary life, and a close acquaintance with all of the personalities whose brilliance infuses the Shakespearean canon with its own distinctive Elizabethan character.
Although a short summary will not do justice to the myriad reasons why the Folger Shakespeare Library has concluded that Oxford is the most plausible alternative candidate for Shakespeare's identity, and why so many informed and independent thinkers have concluded that he was, in fact, the true mind behind the mask of the the bard, following are a few of the many key points:
Tis ridiculous for a Lord to print Verses; 'tis well enough to make them to please himself, but to make them public, is foolish
In the Renaissance period in England a powerful stigma was attached to the publication of poetry and, especially, drama by courtiers–this was an unwritten honor code of the court. Sir Phillip Sidney's collected work, for example, only appeared in print after he died in 1586. Numerous published commentary from the Elizabethan period documents the existence of the taboo. Occasionally, the taboo was violated, but as late as the Caroline court (1625-1649), William Selden wrote: "'Tis ridiculous for a Lord to print Verses; 'tis well enough to make them to please himself, but to make them public, is foolish" (Selden's Table Talk, f.p. 1699, 116).
The use of pseudonyms and other forms of veiled publication was very common during the period in question, both because of the stigma associated with print, and because publication of controversial material constituted a political risk, according to Taylor and Mosher in their standard reference work, The Encyclopedia of Anonyms and Cryptonyms. Even the use of living "front men" was, apparently, a common strategy, if we may trust the reaction of Queen Elizabeth herself to the publication of the inflammatory 1599 tract, The first part of the life and raigne of king Henrie IIII, published under the name of the historian John Hayward. In a July 11 1599 interrogation of Hayward, the Queen "argued that Hayward was pretending to be the author in order to shield 'some more mischievous' person, and that he should be racked so that he might disclose the truth."  The fact that Queen Elizabeth so easily assumed that a living person, thought by all historians of the period to be the actual author of the work in question, was only serving as a scapegoat for a "more mischievous" concealed author seems to indicate her knowledge of a common practice.

That Queen Elizabeth so easily assumed that a living person… was only serving as a scapegoat for a "more mischievous" concealed author seems to indicate her knowledge of a common practice.

Oxford was known in the Elizabethan court as a prominent patron of the theatre. He was also known as a closeted poet and playwright, "the best for comedy," as Francis Meres describes him in 1598. The Arte of English Poesie, the leading (and anonymous) work of literary criticism of the Elizabethan reign, lists Oxford first in a list of Noblemen "who have written commendably well as it would appear if their doings could be found out and made public with the rest" (Arber 75). No play bearing his name survives.
The Shakespeare plays and poems show that the author had specific knowledge of certain works of literature, prominent persons and events in Elizabeth's court, which de Vere had intimate knowledge of:

Venus and Adonis (1593), the first work to bear the name "William Shakespeare," is dedicated to the 3rd Earl of Southampton, to whom Oxford's daughter Elizabeth was then engaged. Southampton is also thought by most scholars to be "fair youth" of the Sonnets.
Oxford's father-in-law and guardian, William Cecil, Lord Burghley, is satirized in Hamlet as Polonius. This point is bolstered by a huge range of comparative detail. The parody is perhaps the most daring use of the stage for satiric purposes during the Elizabethan period. It is one of the strange anomalies of the Stratfordian paradigm that the author of such "slander" against the most powerful man in England, whose son Robert inherited his power on his death in 1598, should apparently escape even a slap on the wrist when other playwrights such as Tom Nashe or Ben Jonson were called before the inquisition of the Privy Council or imprisoned for less daring uses of the stage.
Oxford's epistle dedicatory to Thomas Bedingfield's Cardanus Comfort (1573), a major source book for Hamlet, is strikingly Shakespearean in character, as Charles Wisner Barrell observed in a 1946 article.
Christopher Hatton, Vice-Chamberlain, is satirized as Malvolio in Twelfth Night. Hatton was one of Oxford's most highly placed enemies and a competitor for the romantic attention of the Queen c. 1574. The poesie employed by Maria and Toby to entrap Malvolio into his fantasy that Olivia loves him, "The Fortunate Unhappy" (2.5.164), is a satiric inversion of Hatton's motto, "Foelix Infortunatus" ("happy, although unfortunate").

The sonnets and the plays contain frequent references to events that are paralleled in Oxford's life.

Oxford is the only "Shakespeare" who — as part of his ceremonial prerogatives as the Great Lord Chamberlain — actually "bore the canopy" (to which sonnet 125 alludes) over Queen Elizabeth.
Polonius in Hamlet speaks of "young men falling out at tennis," which most likely refers to the infamous Oxford-Sidney tennis court quarrel.

Polonius in Hamlet speaks of "young men falling out at tennis," which most likely refers to the infamous Oxford-Sidney tennis court quarrel.

The Sonnet writer several times refers to his own lameness (37, 66, 89), as in "speak of my lameness and I straight will halt" (89: 3). A tradition that Shakespeare was lame originated very early, and is discussed extensively by George Russell French in his 1866 Shakespereana Genealogica (569-571). Because of injuries suffered in a duel c.1583 Oxford was "a lame man" — which just might explain the lameness mentioned repeatedly by the author of the sonnets.
In 1573 Oxford as a young man, along with his companions, was reported as playing pranks and tricks on travellers along the same stretch of road "between Rochester and Gravesend" where Prince Hal and his pals played pranks on travellers in Henry IV, Part 1.
The details of Hamlet, one of "Shakespeare's" greatest achievements, are so similar to those of Oxford's life that students of Oxford's life regard the play as inherently autobiographical. Like Hamlet, Oxford was even abducted by pirates and "set naked" on the shore!  As Washington Post reporter Don Oldenburg wrote, Oxford's life reads like a "rough draft" of Hamlet.

Although no play published under Oxford's name has come down to us, his acknowledged early verse and his surviving letters contain forms, words, and phrases characteristic of Shakespeare.

Oxford's life reads like a "rough draft" of Hamlet

For a controversial author-courtier such as Oxford, writing scandalous satiric drama for the public stage, a pseudonym would have been essential. Consider the name: "William Shake-speare," and how fitting it was as a nom de plume for Oxford:

Pallas Athena, patron goddess of ancient Athens, home of Greek theatre, and Renaissance goddess of the arts and literature, was associated in Renaissance Europe with the action of of "spear-shaking." As Henri Estienne explained the popular belief in his Thesaurus Linguae Graecas (Geneva, 1572): "dicitur enim pallas quasi Vibratrix dea. & quidem hastae vibratrix, utpote bellicosa" = for Pallas is said (to be) like a shaking goddess. and indeed a shaker of the spear, inasmuch (as she is) warlike" (III.29.D.1-2).
At court Oxford was known as "Spear-shaker" because of his skill at tournaments and his crest showing a lion brandishing a spear. In a 1578 address to Oxford in front of the court, Gabriel Harvey refers to him as one whose "vultus tela vibrat" — his "will shakes speares."

In a 1578 address to Oxford, Gabriel Harvey refers to him as one whose "vultus tela vibrat" — his "will shakes speares."

The events of 1604-1623 and circumstances of the posthumous publication of the Shakespearean oeuvre in the 1623 folio lend strong support to the Oxfordian theory.

Following Oxford's death in June 1604, King James had eight Shakespeare plays produced at court, apparently as a final tribute to the deceased author. Moreover, David L. Roperhas recently observed a curious contradiction related to this episode:"In that same year, with de Vere having recently died, the King turned to Ben Jonson, and commissioned him to write masques for the Court's entertainment. In the years that followed, and by collaborating with Inigo Jones for scenery, Jonson went on to produce upwards of thirty more masques. The man from Stratford contributed nothing – nor was he asked to. Furthermore, despite the interest and enjoyment derived by James from Shakespeare's plays, the King never sought, nor even once singled-out the man from Stratford."The reason, we submit, for the failure of King James to patronize the bard should by now be readily apparent: unlike Ben Jonson, he was already dead.
When Oxford's widow died nine years later (1612) a group of Shakespeare plays (fourteen in this case) were produced, again apparently in tribute to the deceased author.

Following Oxford's death in June 1604, King James had eight Shakespeare plays produced at court, apparently as a final tribute to the deceased author

When the Sonnets were published in 1609, they refer to the author as "ever-living" — an epithet which is applied as an honorific to a deceased person.
All scholars agree that the Sonnets, although not published until five years after de Vere's death, were completed before 1604. They refer in very pointed ways to the imprisonment of the fair youth, the Earl of Southampton, in the tower of London following the aborted 1601 Essex Rebellion and to the death of Queen Elizabeth in spring 1603. No such references to events after 1604 can be found in the Sonnets.
In Sonnet 107, which alludes to the passing of the Queen, the author states that "death to me subscribes," indicating his awareness of his own imminent death. Oxford died June 26 1604, slightly more than a year later that Elizabeth.
The Shakespeare Folio was patronized by Oxford's son-in-law Phillip Herbert, Earl of Montgomery, and his brother, Lord Chamberlain William Herbert, Earl of Pembroke. The folio was an expensive and risky publication, which was most likely subsidized by these two powerful and wealthy patrons.
What is the Shakespeare authorship question?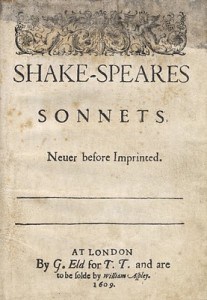 A longstanding tradition of doubt over the official biography, which attributes the works of "Shake-speare" – often spelled with a hyphen in original documents such as this title page of the 1609 publication of the Sonnets-to the businessman and theatre entrepreneur William Shakspere (1564-1616).
Why do people doubt the traditional story about Shakespeare?
The reasons for doubt are many and varied. Primarily the doubts spring from the complete misfit between the life of the alleged author and the character of the literary work which has been attributed to him.
The traditional view, articulated in recent biographies such as those by Park Honan or Katherine Duncan-Jones, requires a suspension of disbelief which a growing number of scholars are unable to accept as rational. As W.H. Furness, the father of the great Shakespeare editor H.H. Furness said many decades ago, "I am one of the many who has never been able to bring the life of William Shakespeare within planetary space of the plays. Are there any two things in the world more incongruous?"
Such doubts have been echoed by numerous perceptive readers, from Sigmund Freud to Walt Whitman, Orson Welles, and Sir John Gielgud. For some expressions of this doubt,  see our Famous Shakespeare Authorship Skeptics.
Is that all there is to it?
No. Other critics of the orthodox view of the bard have pointed to the absence of a paper trail to document a life, a famous case of the dog not barking in the night in Sherlock Holmes: where are the books, the letters, the table talk, of this "great spirit" of the age? As recent attempts to propagate an image of the bard suggest, we don't even have a reliable representation of "Shakespeare", — so that, like Winnie-the-Pooh he also might be said to have lived "under the name of Sanders" (as Miyzel says).
Other critics, such as Sir George Greenwood in a series of books written during the first decades of the 20th century, have in the past brought the spotlight to bear on the character of Shakespeare's intellect. Greenwood cites the distinguished Editor George Wyndham: "Whenever Shakespeare in an age of technical conceit indulges in one ostentatiously, it will always be found that his apparent obscurity arises from our not crediting him with a technical knowledge which he undoubtedly possessed, be it of heraldry, or law, or of philosophic disputation." Needless to say, this view of the bard as a sophisticated thinker, worthy of study as a thinker as well as entertainment in the drama, is impossible to reconcile with orthodox beliefs.
If William Shakspere wasn't the author, who was?
During the 19th century, the most popular alternative to the orthodox view was that Francis Bacon, the great inductive philosopher and legal genius (1561-1626), was the "concealed author" of the plays. However, while sophisticated skeptics such as Walt Whitman refused to accept the orthodox view, they also reserved judgement on the question of what should replace it: "I am with you fellows as far as saying 'no' to Stratford," Whitman told his friend and biographer Horace Traubel in his table talk, "as for Bacon, we shall see…"
In 1920 the retiring but brilliant English schoolteacher John Thomas Looney, after laboring for many years in obscurity, published a book which forever transformed intellectual history. Looney's "Shakespeare" Identified did more than place the name of the Bard under postmodern quotation marks — it articulated for the first time a simple but sophisticated argument advancing the theory that the works were actually authored by Edward de Vere, the 17th Earl of Oxford (1550-1604).
Despite his "funny" name, Looney's book persuaded many prominent intellectuals of his century — Sigmund Freud, Leslie Howard, and John Galsworthy, to name only a few — that Oxford was in fact the true author. Today the book continues to exert an enduring influence.
Since Charlton Ogburn's magnum opus The Mysterious William Shakespeare appeared in 1984, a groundswell of curiousity about de Vere's life has led to a series of events which is inexorably undermining the conventional view of Shakespeare. Today Ogburn's book, more than fifteen years after its original publication, remains one of the most successful Shakespeare biographies sold on Amazon.
Popular awareness of the authorship question is growing at an exponential rate — directly or indirectly as a consequence of Ogburn's book. Other significant contributions to the authorship debate include books by Richard Whalen (1991) and Mark Anderson (2005).
Just beneath the deceptively placid surface of Shakespeare studies, a huge volume of new research and analysis, much of it featured in our quarterly publication, The Shakespeare Oxford Newsletter, is waiting to break forth into public consciousness.
Why should we care about this issue? Isn't it enough that we have the works?
First, the topic is of interest from the point of view of intellectual history. Does it matter that for more than two hundred years students have been memorizing a point of view which now seems, to an increasing number of informed scholars, to have been false? It would certainly seem so! To say that the subject does not matter is merely to follow the ostrich and bury one's head in the sand.
Second, the claim that "we have the works" is itself suspect. One implication of the authorship question is that we emphatically do not "have the works."
A moment's reflection helps to illustrate why this is so. If literary biography is a tool for providing insight into the significance of a text, then attaching the wrong author's name to the work leads to a host of false assumptions which in turn spawn further misperceptions of the work.
The authorship question is therefore not just a matter of honoring the true author of the work – itself an important ethical obligation for readers – but also about restoring a sense of authenticity and truth to the work we study and enjoy under the name Shakespeare.
How could Edward de Vere be the true author if he died in 1604, before many of Shakespeare's works were written?
First, it is important to emphasize that there is no unambiguous standard chronology of Shakespeare's works. The distinguished E.K. Chambers, probably the foremost 20th century authority on the chronology of the plays, admits that his own chronology is a construct of inferences based on his premises about the author's life and career: "There is much of conjecture, even as regards the order, and still more as regards the ascriptions to particular years. These are partly arranged so as to provide a fairly even flow of production when plague and inhibitions did not interrupt it" (Chambers William Shakepeare, I 269). The editors of the Pelican Shakespeare definitively date only two plays, The Tempest and Henry VIII, after 1604. And even the dates of these plays are not beyond dispute.
Aren't the Oxfordians just snobs who believe that only an aristocrat would have written great literature?
No. The authorship question asks not who could have written the plays, but who did. Common sense and all literary experience tell us that authors, even imaginative authors, write from real experience; their work reflects a set of life-experiences conditioned by gender, class, and individual biography.
Everything about the Shakespearean canon, as observers like Charlie Chaplin and Walt Whitman have noted, suggests an author of an aristocratic background and bias- one quite different, for example, from the brilliant middle class author who was Shakespeare's younger contemporary, Benjamin Jonson.
It is not snobbery to recognize this – its realism.
Aren't the Oxfordians just conspiracy buffs with too much time on their hands?
The position advocated by the Oxfordians is that "Shakespeare" was a state secret, not a conspiracy. De Vere's intimate and conflicted relations with powerful persons such as William Cecil or even Queen Elizabeth I, often dramatized or even lampooned in the plays, meant that the plays were a political tinderbox.
But Elizabeth and Cecil also needed de Vere's dramatic talent to forge a sense of national consciousness through the history plays. At a critical turning point in the development of modern, Protestant England, "Shakespeare" loyally rewrote English history, but spiced it with his own blend of topical innuendo–innuendo which was sometimes regarded as offensive to public morality.
To avoid public scandal, the real name of the author could not be associated with the work. Loyal Elizabethan writers complied –at least nominally –with the ban on public mention of de Vere's identity, only hinting at what they knew through word-play.
Unfortunately, some persons committed to the orthodox view of authorship evade the huge accumulation of evidence supporting these conclusions with emotional red-herrings like the ad hominem use of the word "conspiracy."
How can I learn more?
Mark Twain's
Is Shakespeare Dead?
with Keir Cutler