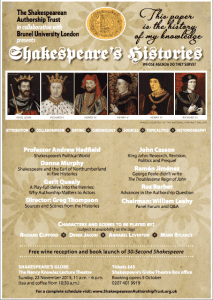 The Shakespearean Authorship Trust, in collaboration with Brunel University, will present "Shakespeare's Histories: Whose Agenda Do They Serve?" at their annual conference November 22, 2015 held at Shakespeare's Globe, London.
Three USA scholars will present at the event: Gerit Quealy, Donna Murphy, and former SOF trustee Ramon Jimenez.
Jimenez, who has a special interest in Shakespeare's history plays, will present "George Peele didn't write The Troublesome Reign of King John." Jimenez said:
I'm taking the opportunity to speak at the SAT Conference in order to correct an erroneous attribution by Sir Brian Vickers and the Manchester University Press. They have mistakenly assigned the anonymous play The Troublesome Reign of John to George Peele. It is clearly a Shakespeare play.
Quealy will present "A Play-full delve into the Henries: Why Authorship Matters to Actors," and Murphy will present "Shakespeare and the Earl of Northumberland in Five Histories".
Among the British scholars presenting, The Marlowe Papers author Ros Barber, PhD, will discuss advances in the authorship question; and Brunel University Deputy Vice Chancellor William Leahy, PhD will lead a panel discussion. Key scenes will be performed by leading Shakespearean actors: Richard Clifford, Derek Jacobi, Annabel Leventon, and Mark Rylance.
A complete list of presenters and more information about the event is available on the SAT website at "Shakespearean Authorship Trust Conference 2015".
Update Oct. 22, 2015: This event is sold out, but some unused tickets may be made available on the day of the conference.
SAT conference 2015 Date: Sunday 22 November 2015 Time: 11:00 a.m. to 6 p.m. GMT Venue: Shakespeare's Globe, Bankside, London, SE1. Tickets: £45 (including tea and coffee, free glass of wine and book) Booking: Shakespeare's Globe Box Office: Tel: 020 7401 9919