October 17-20, 2019 | Hartford, Connecticut
The Shakespeare Oxford Fellowship's 2019 conference will take place from Thursday, October 17 to Sunday, October 20 at the Mark Twain House and Museum in Hartford, Connecticut. Mark Twain lived for 17 years in the house that now bears his name. It is where he wrote Huckleberry Finn, Tom Sawyer, and The Prince and the Pauper, among other great works. A special group rate is available for rooms at the nearby Homewood Suites Hotel by Hilton. See below for lodging and venue details.
The conference will include Keir Cutler's performance of Twain's "Is Shakespeare Dead?" and tours of the inimitable Mark Twain House. More information on conference speakers and a full agenda will be posted in summer 2019.
---
REGISTER

Full conference registration includes all conference materials, numerous coffee/tea/Danish breaks over the four days, one dinner, and three lunches, including the closing awards luncheon on Sunday. Daily rates are also available.
The full conference registration fee is $270 for SOF members and $285 for non-members. Purchase by September 1 for the early bird discount: $250 for SOF members and $265 for non-members. These prices are somewhat higher than our usual registration prices, but our past conferences have included only two lunches, while this conference includes three lunches, one dinner, admission to Keir Cutler's performance, and a tour of the Mark Twain House. A member may buy up to two registrations at member price.
Daily admission is available ranging from $45 – $100. An extra Sunday luncheon can be purchased for $50 and additional tickets for Keir Cutler's Saturday evening performance are available for $20.
Students with valid ID may attend conference presentations at no charge (meals not included).
---

VENUE
The SOF conference will take place in the 175-seat auditorium in the modern Mark Twain Museum, located right next to the Mark Twain House. Mark Twain's importance to the Shakespeare authorship controversy cannot be questioned, as he is perhaps the most prominent writer to doubt openly that William Shakspere of Stratford was the author of the works of "William Shakespeare."
In 2012, the Mark Twain House was named one of the Ten Best Historic Homes in the world in The Ten Best of Everything, a National Geographic Books publication.
LODGING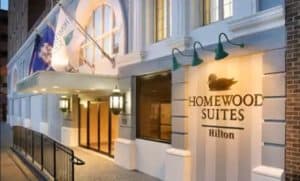 Reservations are now open for rooms at the Homewood Suites Hotel by Hilton for the SOF's 2019 Conference in Hartford, Connecticut. The SOF will provide shuttle service between the hotel and the Mark Twain Museum. Reserve now! Attendees of our conferences in recent years know how difficult it is to get rooms at conference rates when they don't book early.
We have obtained a special group rate of $149 a night, plus 15% tax, at the hotel, and rooms are available at that rate from Wed., Oct. 16 through Sun., Oct. 20.  So, come early and stay late if you wish! Regular rates for those dates would start around $300 per night. Do not reserve through the hotel website's home page, but use this special link for SOF conference attendees. You will need to provide a credit card number to reserve a room, but your credit card will not be charged at this time. Free hot breakfast buffet and free wi-fi included. The hotel has a $16 per day charge for parking.
Watch a 6-minute video about the Mark Twain House & Museum: