Thank you to all who made our 2016 conference such a success.
We look forward to seeing you in Chicago in 2017!
---
November 3-6, 2016 | Boston, Massachusetts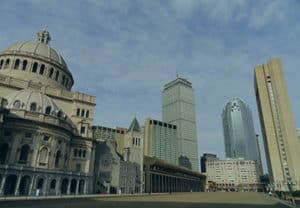 The Shakespeare Oxford Fellowship announces the 2016 Annual Conference, to be held from Thursday, November 3 to Sunday, November 6, 2016 at the Boston Marriott Newton, located at 2345 Commonwealth Ave, Newton, MA 02466.
Considering that our favorite authorship candidate is the 17th Earl of Oxford, it is appropriate that we will be holding our 2016 Annual Conference at the same hotel where we held the Conference 17 years ago in 1999 (although the hotel has been remodeled since then).
View the conference schedule.
---
REGISTER

Conference Admission   Options for full or partial attendance.
Hamlet Ticket   Friday evening's program includes an optional excursion to a performance of Hamlet. Tickets are no longer for sale through the SOF, but you may be able to purchase a seat directly through the Actors' Shakespeare Project.
---
LODGING (updated September 2, 2016)
The Boston Marriott Newton, where the conference will be held, has now sold out the block of rooms reserved for conference attendees at $139/night, and we are unable to reserve any more rooms at that rate. Conference Committee Chair Richard Joyrich was able to arrange a new block of rooms at the Boston Marriott Newton for $179/night, but these rooms are not available on Wednesday night, 11/2.
Note: Although the distances from the following hotels to the Boston Marriott Newton are not large, many of them involve travel on major interstates or other roads and there could be a long commute in rush hour traffic.
Note: Under our contract with the Boston Marriott Newton, parking at the hotel is free for conference attendees.
******************
Here is a list of hotels that are holding discounted room blocks for us (typically Wednesday through Saturday night, 11/2 to 11/5):
Boston Marriott Newton ($179/night, but not Wednesday 11/2)-Conference Hotel
2345 Commonwealth Ave., Newton, MA
800-228-9290 or 617-969-1000 or this link:
Residence Inn-Needham ($179/night, including Wednesday 11/2)
80 B St., Needham, MA (about 6 miles from Boston Marriott Newton)
781-444-5750 or this link.
Four Points by Sheraton ($145/night, including Wednesday, 11/2)
1125 Boston Providence Turnpike, Norwood, MA (about 15 miles from Boston Marriott Newton)
781-769-7900 or email Lucy.Finnerty@hobbsbrook.com and mention the Shakespeare Conference (no direct online booking link available)
******************
Other possible hotels in the area have similar or slightly higher rates than those given above, or even potentially lower rates (you may wish to try booking through an online agency):
Crowne Plaza Newton, 320 Washington St., Newton (about 6 miles away) 617-969-3010
Sheraton Needham Hotel, 100 Cabot St., Needham (about 6 miles away) 781-444-1110
Westin Waltham, 70 3rd Avenue, Waltham (about 6 miles away) 781-290-5600
Holiday Inn, 385 Winter St., Waltham (about 6 miles away) 781-890-2800
Super 8, 100 N. Beacon St., Watertown (about 6 miles away) 617-926-2200
****************
There are other hotels in the area, usually with much higher rates. You may search out the areas of Newton, Waltham, Watertown, and Needham in Massachusetts (the nearest cities to Newton) using Google and other online tools to try to find lower rates.
You may also wish to check out airbnb for rooms that are available at reasonable rates in private homes in the Newton area.
Of course, you can choose to stay anywhere in the Boston area and use a rental car or public transportation to get to the Boston Marriott Newton Hotel.
If you stay near a "T" stop (the Boston subway and streetcar system known as MBTA-check it out at www.MBTA.com), you can take the Riverside (D line) branch of the Green Line subway to the end (Riverside station). The fare is $2.75 (or possibly less if you get a "Charlie Card"). This station is about 1.5 miles from the Boston Marriott Newton. During the day (before 8 PM) the Newton Marriott has a shuttle service to and from this station. You can call the hotel (617-969-1000) and ask for a pickup when you get to the Riverside station.
MORE INFORMATION  For additional information, contact Conference Committee Chair Richard Joyrich at rjoyrich@aol.com.