The 2015 SOF conference will be held Sept. 24-27 in Ashland, OR. More information will available in early 2015. We hope to see you there!
September 11-14, 2014 | Madison, Wisconsin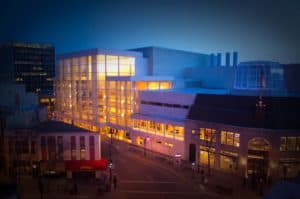 The Annual Shakespeare Oxford Fellowship Authorship Conference will be held in Madison, Wisconsin from Thursday, September 11th through Sunday, September 14th, 2014 at the Overture Center. Conference lodging will be provided by the Madison Concourse Hotel, located 2 blocks from the Overture Center.  See details below to register for the conference and for lodging rates and reservation information.
---
REGISTER

Conference Admission   Options for full or partial attendance.
(Tickets to Much Ado excursion must be purchased separately, below)    

Much Ado About Nothing Ticket   Saturday excursion. Includes theatre ticket, transportation and meal.
---
Speakers and topics have been announced. Full conference agenda is available here.
HIGHLIGHTS:  Saturday's program will include an optional excursion to the renowned American Players Theater in Spring Green, Wisconsin, an outdoor theater nestled in a beautiful forested setting, for a production of Much Ado About Nothing. Those attending will enjoy an Elizabethan inspired,  al fresco banquet prepared by local farm to table caterers Enos Farms on the grounds of the theatre. Expect additional entertainment and a chance to meet with actors or staff from the APT.
Also planned will be a screening of the final version of Nothing is Truer than Truth, a film by Cheryl Eagan-Donovan.
[NOTE: The Thursday evening Rasputina concert will not be taking place. Stay tuned for updated information on the opening event. ]

WHERE: The conference will be hosted at the Overture Center, Madison's downtown home for arts and culture (pictured above).   The Overture Center is located in the heart of downtown, and on the popular State Street, a primarily pedestrian mall linking the Wisconsin State Capitol with the University of Wisconsin campus.  It is Madison's premier shopping and dining district. Conference lodging will be provided by the Madison Concourse Hotel, located 2 blocks from the Overture Center.   See details below for rate and reservation information. The Madison Airport (MSN) is located about 5 miles from the Overture Center and the Madison Concourse Hotel. This airport is serviced by American Eagle, Delta Airline, Frontier Airlines, and United Airlines. Carpooling from Chicago (3 hrs) or Milwaukee (1.5 hrs) airports will be explored for direct flight options.
LODGING: Madison Concourse Hotel is offering a special SOF conference room rate is $139/night for a single and $149/night for a double (plus tax). Rooms may be booked by calling the hotel directly (800-356-8293) and mentioning the Shakespeare Oxford Fellowship. This room rate will be honored for three days before and three days after the dates of the Conference (depending on availability). This rate is good until August 15 or until all available rooms have been booked.
Alternative Lodging:
HI – Madison (Hostel), 141 South Butler Street, Madison, WI (10-15 minute walk from Overture Center).
Hampton Inn and Suites, 440 W. Johnson St, Madison, WI 53703, (608) 255-0360 (7 minute walk from Overture Center).
Doubletree, 525 W Johnson St., Madison, WI 53703, (608) 251-5511 (10 minute walk from Overture Center).
Best Western Inn on the Park, 22 S. Carroll Street, Madison WI 53703, (608) 285-8000 (5 minute walk from Overture Center).
Be on the lookout for list of speakers and topics in the near future.
If you are interested in presenting a paper, see the Call for Papers and Presentations for details on submitting a proposal.