New York actor-writer-researcher Hank Whittemore has been named Oxfordian of the Year for 2017 by the Shakespeare Oxford Fellowship, it was announced by Tom Regnier, SOF President, on October 14, 2017.
In ceremonies held at the SOF annual conference at Chicago's Loyola University, the long-time Oxfordian was feted for both his ongoing work in the field of authorship studies and for his 2016 volume, 100 Reasons Shake-speare was the Earl of Oxford. The volume was published by Forever Press in Massachusetts and is available in both a paperback and Kindle edition through Amazon.
His 100 Reasons was based on a blog he wrote over many years for people who wanted to know why he believed the 17th Earl of Oxford had used the name Shakespeare as a pseudonym.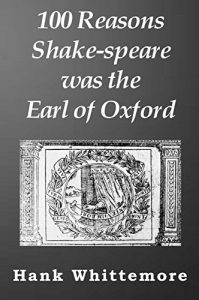 On publication last year, Kirkus Reviews called 100 Reasons a "tour de force defense . . . with a breezy but very intelligent tone; the reader is neither patronized nor boggled by minutiae and jargon. Instead, there is a magnetic sense of history, art, politics, and human nature injected into a smooth and eminently readable storytelling style. It is obvious that the author's research has been painstaking, but the resulting document is . . . downright pleasurable."
Whittemore is the author of 11 books ranging from a bestselling novel called Feeling It (a Literary Guild selection in the 1970s) to a groundbreaking 900-page study of Shakespeare's Sonnets entitled The Monument (published in 2005). Since 2008 he has been performing a solo show entitled Shake-speare's Treason, based on The Monument, written with director Ted Story.
Also connected to The Monument is Whittemore's Shakespeare's Son and His Sonnets, which combines not only Shakespeare and English literature but also history, biography and the unraveling of the mystery surrounding the authorship question. Another volume of note is Whittemore's Twelve Years in the Life of Shakespeare (2012), a series of essays about Edward de Vere connecting events in his life with the plays of the Bard.
Whittemore began his career as a professional actor at the age of 19 appearing on Broadway in Take Her, She's Mine with Art Carney and later as Henry in The Skin of Our Teeth with Helen Hayes. He later went into newspaper work at The Reporter Dispatch in White Plains, N.Y. and in radio at WVOX in New Rochelle.
His first book was a biography of the transit labor leader Mike Quill, which he followed with another bestseller: The Super Cops, later made into an MGM movie directed by Gordon Parks.
His award-winning documentary films include CNN: The Inside Story, about Ted Turner and the start of his all-news network; and So That Others May Live, about search-and-rescue dogs. A winner of two Emmys as well as a Writers Guild of America Award, he has also written some one hundred journalistic cover stories for Parade, the large-circulation Sunday newspaper supplement.
Whittemore says that his love of Shakespeare began at his alma mater, Notre Dame, while playing the roles of Cassio in Othello and Laertes in Hamlet.
As a scholar-researcher, he has presented papers at the Shakespeare Authorship Studies Conference at Concordia University in Oregon and at numerous annual gatherings of the Shakespeare Oxford Society and the Shakespeare Oxford Fellowship. His work has also appeared in academic journals such as The Oxfordian, Brief Chronicles and Discovering Shakespeare.
Whittemore lives in Nyack, N.Y. with his wife Glo and their son Jake.
Previous winners of the Oxfordian of the Year award are:
2016 Tom Regnier
2015 Alexander Waugh
2014 Alex McNeil
2013 Roger Stritmatter
2012 John Shahan
2011 Kevin Gilvary
2010 Richard Roe
2009 John Paul Stevens
2008 Daniel Wright
2007 Richard Whalen
2006 Lynne Kositsky
2005 Mark Anderson
[posted October 14, 2017]