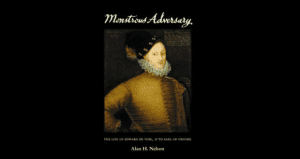 We are pleased to offer four reviews of Professor Alan Nelson's book, Monstrous Adversary: The Life of Edward de Vere, 17th Earl of Oxford (Liverpool University Press, 2002).
Nelson's book was the result of almost ten years of archival research and writing. Decisively hostile to the subject of his biography, Nelson argues that de Vere could not have been Shakespeare because he was both a scoundrel and a bad speller.
Dialect coach and historical linguist K.C. Ligon refutes Nelson's arguments about spelling. From the Winter 2004 issue of Shakespeare Matters. (.pdf)
Independent scholar and writer Richard Whalen argues that Nelson "misunderstands the typical personality of a great genius," passing judgement on Oxford while failing to understand his real character as a literary genius and leading patron of Elizabethan letters. From the Fall 2003 issue of Shakespeare Matters. (.pdf)

Peter R. Moore, writing originally for the Winter 2004 issue of the Shakespeare Oxford Society Newsletter, does for Nelson's historical scholarship what K.C. Ligon had already done for his use of linguistics: exposes his historical methodology as a form of postmodern hypocrisy.
Dr. Roger Stritmatter suggests that Nelson's jaundiced view of his subject  requires him to suppress the actual purposes of his work (namely, to counter the proposition that Oxford was "Shakespeare").  The book thus proceeds from a kind of false consciousness about its object of study. "In place of a judicious scholarly critique of the Oxfordian case [the book] substitutes a sustained ad hominem attack on Oxford's character which bends or breaks every canon of fairness which might impede its single-minded pursuit of ideological conformity to orthodox belief." (.pdf)