Leave it to writer and editor Alexander Waugh to come up with a theory that ties together almost every aspect of the Shakespeare Monument in the Holy Trinity Church in Stratford-upon-Avon. That's what he has done in his recent article, 'Thy Stratford Moniment' – Revisited, a "holistic interpretation." Mr. Waugh demonstrates, among other things, a connection between the Monument inscription and the lines about Beaumont, Chaucer, and Spenser in the First Folio.
The Monument has long puzzled observers. First, there is the enigmatic inscription – two lines in Latin followed by three couplets in English – all of it suspiciously reminiscent of the style of Ben Jonson, the mastermind behind the prefatory material of the First Folio. A reference to "all that he hath writ" is the only suggestion that the Stratford man might have written anything at all, but the Monument never explicitly connects him to the plays and poems written under the name "William Shakespeare." Then there are the mysterious changes in the bust of Shakespeare. The bust, as it was sketched in the early 1600s, depicted a man clutching a woolsack (pictured, left). This is nothing like the one on display in the Church today, with quill pen and paper (pictured, right):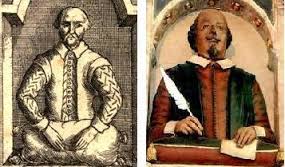 Mr. Waugh's article first appeared in the U.K. in the De Vere Society Newsletter in October 2014. It has now been republished on the Shakespeare Oxford Fellowship website, in a version revised and updated by the author, with the kind permission of our sister organization, the De Vere Society. We hope you'll find Mr. Waugh's article, which you can read on our website, as fascinating as we did.
[posted March 22, 2015]