A Message from John Hamill, Chair of the SOF's Research Grant Program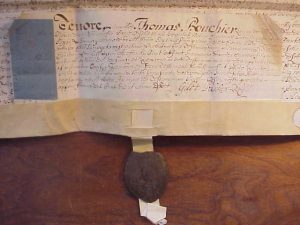 I am pleased to announce that the Shakespeare Oxford Fellowship has received, for the second year in a row, a generous grant from the Joe W. & Dorothy Dorsett Brown Foundation, which will assist us in providing matching funds for our Research Grant Program. The RGP is now in its fourth year, and we invite you to apply for a research grant, or help us raise the funds for additional research on the Shakespeare Authorship Question. Research grant winners Michael Delahoyde and Coleen Moriarty will be back in Italy this summer to continue their research on Oxford's adventures in Italy. You can see their previous report starting on the first page of the Winter 2016 Newsletter. This will be the third time that the RGP has helped in funding their research. We are all very excited to learn what they will uncover this time! Last year, the RGP also awarded grants to Eddi Jolly of England for research in French archives, and Nina Green of Canada for research in the College of Arms. You can read about their research projects here. Roger Stritmatter and John Lavendoski, who received grants in 2014, are still finalizing their research results and should have reports on their status soon.
The deadline for submitting grant proposals this year is October 31, 2017. Rules and instructions for submitting applications to the 2017 grant program are here. If you would like to donate to this project, click here. The SOF has $10,000 as matching funds for the RGP. The matching funds mean that the power of your donation is doubled – if you donate $100, the RGP receives $200; if you donate $500, the RGP receives $1,000. We welcome all donations, large and small.
Our goal is to raise $10,000, so that, with the matching funds, we can have a total of $20,000 available for research. As of today, we have already raised over $4,400 for the 2017 RGP from members through our annual donations solicitation and through our announcement in our Spring 2017 Newsletter, so we are already at 44% of our goal! Please go to our RGP donation page to make a donation, of whatever amount you can afford, to the Research Grant Program. Or send the SOF a check at P.O. Box 66083, Auburndale, MA 02466, and write "RGP" on the check.  Please do what you can to help us bring additional evidence of Oxford's authorship to light.
We are the only institution in the world that provides grants for Oxfordian research – please support us!
Thanks to those of you who have donated already!
Cheers!
John Hamill, Chair
Research Grant Committee
June 16, 2017