Compiled by Kathryn Sharpe
In this issue:
SOF works with J. T. Looney's grandson to put headstone on Looney's grave
Alan Bodell searches house for authorship materials
Newcastle Literary & Philosophical Society approves ways to remember Looney
First annual SAM Day on November 8 sowed seeds of doubt
Two articles by J. T. Looney reprinted in SOF publications
James Warren strikes gold mining the impact of Shakespeare Identified
Goals for 2018
SOF works with J. T. Looney's grandson to put headstone on Looney's grave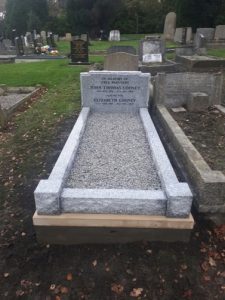 An historically accurate granite headstone and surround now mark the grave of John Thomas Looney and his wife, Elizabeth, thanks to the joint efforts of Looney's grandson Alan Bodell, the SOF, and the De Vere Society.
When the SI-100 committee learned that Looney's grave was unmarked in Saltwell Cemetery in Gateshead England, it secured the permission of his grandson, Alan Bodell, to share the costs of purchasing and installing a granite headstone. Tom Regnier sent a motivating letter to the membership, sharing two new photos of Looney with young Alan, and inviting people to take advantage of a unique opportunity to contribute.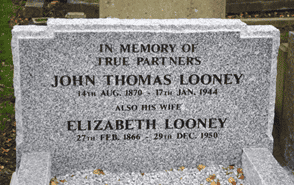 The response was overwhelming. The SOF quickly raised more than our half of the funds, and recently, the De Vere Society in England contributed as well. The mason installed the stones in November, when Alan and his daughter visited and took photos for us to share. Heartfelt thanks go to everyone who contributed to this project. We have posted additional photos and a link to the cemetery on our SI-100 webpage.
To date, people have contributed $4,365.00 to the SI-100 effort. The most common donation was $100.00. Tom sent $3,000.00 to the mason, leaving a balance of $1,365.00. Alan Bodell does not want us to send more, preferring to pay half the cost of the headstone himself, so we have additional money to initiate or support other efforts that will highlight Looney's achievements. The committee has prioritized a list of ideas including design and publicity of James Warren's book on the impact of Shakespeare Identified and efforts to memorialize Looney at the Literary & Philosophical Society in England.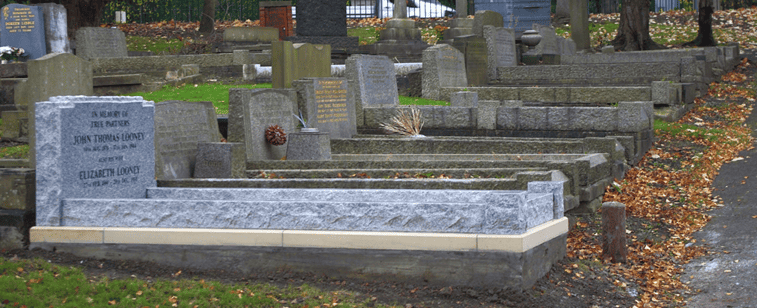 Alan Bodell searches house for authorship materials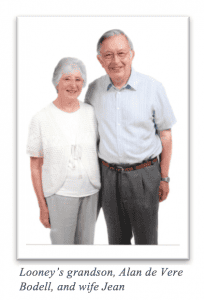 Kathryn Sharpe has continued a fruitful correspondence with Alan Bodell in Scotland. Alan has looked through his home for relevant materials and:
Sent a handwritten copy of Looney's poems—never meant for publication—that reveal his poetic and philosophical interests
Searched the family albums and found four photos of JTL with his family plus a lovely engagement photo of Looney's wife, Elizabeth
Searched bookshelves for JTL's books—he found many, mostly Roman and Greek classics, history, literature, biographies, etc., but nothing on the Shakespeare question, and no penciled comments
Confirmed that there are no research papers, letters, or clippings of book reviews in the house, saying Looney did his research at local libraries, including the Lit & Phil, and possibly gave his research materials to someone in the US
Confirmed that "Looney" rhymes with "Rooney"
Literary & Philosophical Society approves ways to remember Looney
The Newcastle Literary & Philosophical Society in Newcastle on Tyne, England is the location where J. T. Looney conducted the bulk of his research while writing Shakespeare Identified. Kathryn Sharpe contacted Kay Easson, the head librarian at the Lit & Phil, with several suggestions regarding how we might honor Looney as one of their historic researchers. Easson responded positively to all our proposals.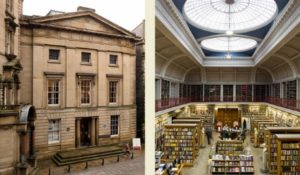 The SOF has funds raised specifically for the SI-100, that we could use for these projects. We can:
Make a framed informational display for the main library about Looney's work and its impact (with a donation to the Lit &Phil)
Write an entry for its online timeline for the decade when Looney did his research there
Donate funds to rebind some Elizabethan era books (in the SOF and Looney's name)
Contribute to purchase additional books on the authorship question and the role of the Earl of Oxford
Get approval for and directly donate books (we will send James Warren's 2017 index and Kevin Gilvary's dating of the plays, and will suggest others).
Write an article for the library's newsletter about Looney, his work, and its impact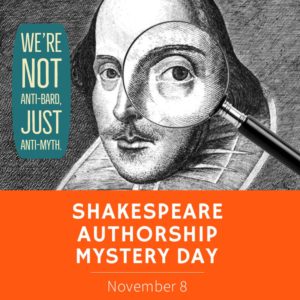 For more about the Lit & Phil, see:
First annual SAM Day on November 8 sowed seeds of doubt
Committee members Kathryn Sharpe, Jennifer Newton and Linda Theil kicked off a new effort to raise doubt using social media and collaborating with other authorship doubters.  Shakespeare Authorship Mystery Day (SAM Day, for short) was registered with Chase's Calendar of Events and will occur annually on November 8, the date of the initial publication of the First Folio. Shakespeare Authorship Mystery Day is designed to raise the visibility of the Shakespeare authorship question. It is a single day when all authorship doubters can amplify their voices while commemorating the First Folio publication date—a more appropriate Shakespeare holiday than April 23.  While the SOF officially started SAM day, ideally it will provide a platform for all groups and individuals studying the authorship question to promote their work and increase curiosity about the true authorship of Shakespeare's plays and poems.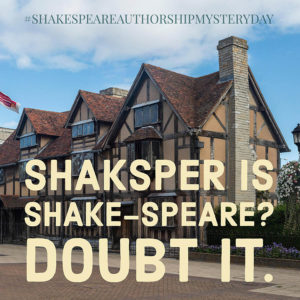 This year the SOF celebrated SAM as follows:
Invited all doubters, both individuals and organizations, to celebrate a day of mystery
Created doubt-provoking memes to share on social media channels and post through the day
Sent dozens of tweets using the hashtag #shakespeareauthorshipmysteryday
Sent a Shakespeare Authorship Mystery Day email to our members and network
Linked to the Declaration of Reasonable Doubt
Posted new articles or videos on the day
Posted lists of recommended resources – books, websites, movies, and articles
Shared Shakespeare quotes
Linked to classic SAQ articles
Pointed to blogs/websites for more information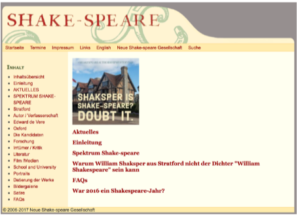 The meme that generated the most reader comments was one that quoted the comedian Robin Williams as an authorship doubter. Some of the responses to the memes were interesting, taking us on point-by-point, and these responses can be analyzed to provide ideas for improving our communications materials going forward. One lesson we took from this is that we need to have people ready and able to respond to comments, with a professional attitude and concise information. Other groups celebrated SAM day by sharing and posting our memes (example at left, from a German doubter group), and gathering to watch the debate between Alexander Waugh and Jonathan Bate.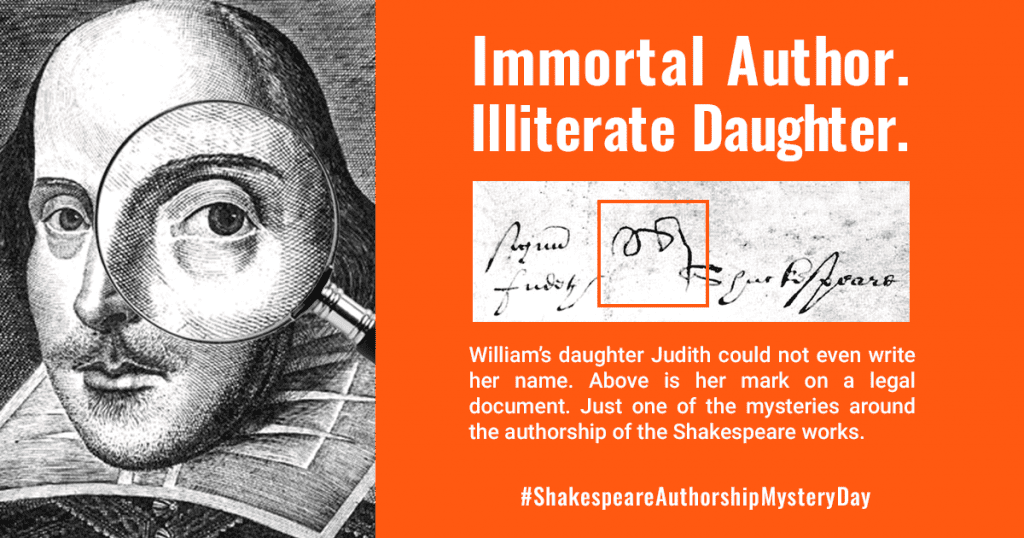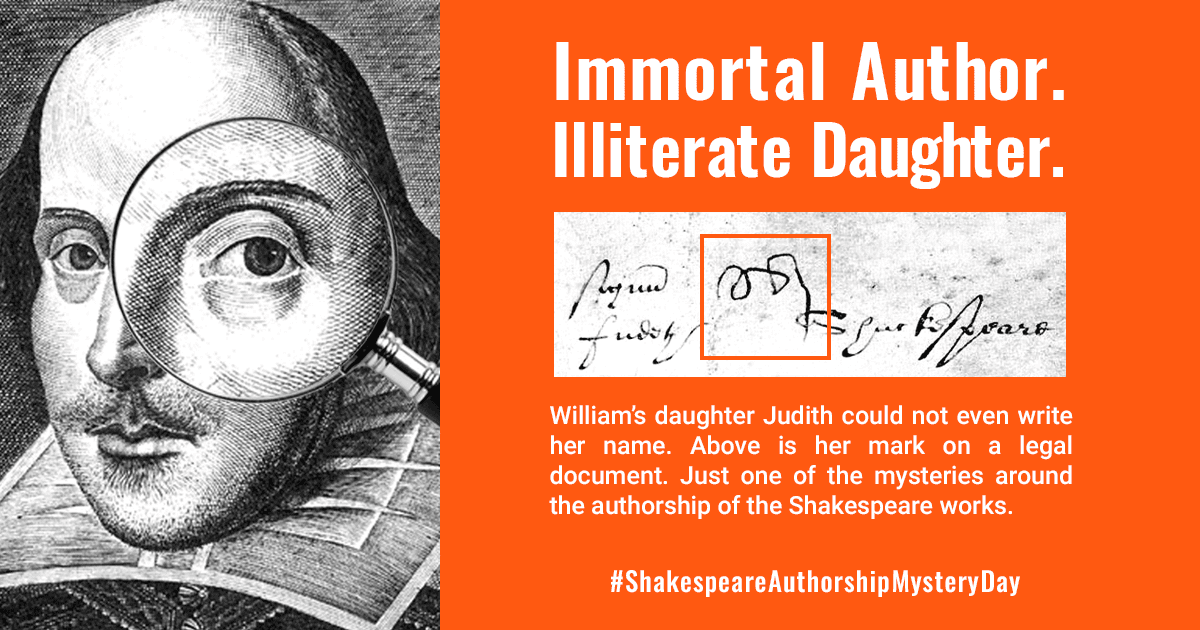 Two J. T. Looney articles reprinted in SOF publications
We encourage SOF members to take advantage of two opportunities made possible by the SOF Board, the Grants committee, and the publications editors, by doing research on or writing articles related to J. T. Looney. No Looney-related research has yet been funded, but thanks to James Warren, two articles written by Looney have been reprinted. These articles are available to members on the SOF website:
1922- Shakespeare: Lord Oxford or Lord Derby? The Shakespeare Oxford Newsletter, Spring 2017.
1941- Shakespeare: A Missing Author. The Oxfordian, Vol. 19, October 2017
James Warren strikes gold mining the impact of Shakespeare Identified
James Warren continues to expand, organize, and analyze materials for his book on the impact that Looney's 1920 Shakespeare Identified has had on Shakespeare studies and the wider literary world. James has:
Completed an expanded fourth edition of "An Index to Oxfordian Publications," creating reading lists and specialized bibliographies; updating current Oxfordian publications through the summer of 2017; and adding over 2,600 new entries from 460 non-Oxfordian publications from around the world (from the 1920s to 2017) which have covered Oxfordian events, reviewed books and films, or otherwise commented on the authorship debate in terms of the Oxfordian thesis. The list also includes a list of 660 overt references in print to Edward de Vere as Shakespeare, all from the 1920s and 1930s.
Identified five literary "revolutions" in Shakespeare thinking that Looney started.
Identified 700 major Oxfordian events since 1920, and, using the 2,600 articles about de Vere's authorship in non-Oxfordian press, is matching the articles with the events to see which received publicity.
Discovered that Canon Demant, Chancellor of St. Paul's Cathedral in London held a memorial service for Looney in the spring of 1946, attended by Looney's two daughters. In his "Personal Recollections of the Late J. T. Looney," Demant highlighted Looney's "wise and tranquil disposition" and said he "concealed under the quietest exterior a searching and wide-ranging mental activity."
In coordination with James' efforts to locate the research materials of Looney and other early Oxfordians, the SI-100 is working with the Data Preservation Committee to find, inventory, and archive valuable historic materials.
Goals for 2018
Stay in touch with J. T. Looney's descendants
Implement memorials at the Newcastle Literary & Philosophical Society
Assist with design and publicity for James Warren's book and related materials
Leverage SAM day to explore social media and connect with other doubters
Explore possible ways to coordinate with a planned celebration of William Cecil's 500thbirthday in 2020 at Burghley House in Lincolnshire.
Investigate having an actor read letters of J. T. Looney
_________________________________________
About the SI-100 Committee
Our goal is to coordinate a powerful celebration of the 100-year anniversary of J. T. Looney's publication of "Shakespeare" Identified in 2020, using the SOF website, social media, publications, and annual conference. We encourage Oxfordians to create and implement their ideas to celebrate locally, and we will help them publicize their events using SOF resources.
Get involved:
Volunteer to help the SI-100 Committee.
Follow us on Twitter: @ShakesOxFellows #2020Looney
Ask to be put on our email list for news updates.
Contact us:
Web: https://shakespeareoxfordfellowship.org/shakespeare-identified-100/    Email: 2020.looney@gmail.com