by Richard Whalen
First published in the 2005 issue of The Oxfordian
Today's Stratford monument is the defining image of William Shakspere of Stratford- on-Avon as the alleged author of Shakespeare's poems and plays. In the church where he's buried, it shows a writer with pen, paper and writing surface (a cushion of all things). The plaque on it says it's for "Shakspeare," although without a first name. Thus, according to the Stratfordian story line, the monument was erected to honor the world's greatest writer, namely the man from Stratford. But this monument is a fraud, a "monumental" fraud. It is not the original, nor does its effigy resemble the original. The cumulative power of the evidence against the authenticity of today's monument is clear and convincing. The principal witnesses against its authenticity are a respected antiquarian who left an eyewitness description of the original monument, an eighteenth-century artist whose engraving is the first to depict a writer in it, and a famous painter who called it "a silly smiling thing." The evidence includes the letters of a Stratford curate who protests far too much about how he "refurbished" it, his mention of a mysterious "Heath the carver" whose role has not heretofore been sufficiently recognized, and the records of those who at various times complained of the wear and tear on a monument that today looks like it has survived over four centuries untouched by time. Underlying the faulty rationale of orthodoxy is a mistaken standard of accuracy.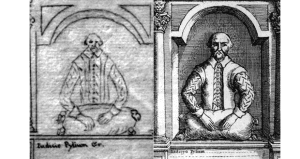 Figure 1 (left): Dugdale's sketch of the Stratford monument made in 1634 during his visit to Stratford. Courtesy of Sir William Dugdale, a descendant. Photo courtesy of Gerald Downs.
Figure 2 (right): Hollar's engraving of the monument in Dugdale, published in 1656, 1730 and 1765 editions.
There are two fundamental issues: first, whether the antiquarian William Dugdale was accurate when, in 1634, he sketched the effigy in the monument as a dour man with a down-turned moustache clutching a large sack––not a writer with pen and paper, as in today's monument––and if so, how the sack-holder became a writer. If Dugdale and his engraver, Wenceslaus Hollar, are to be believed, Oxfordians have a persuasive argument that William Shakspere of Stratford was not the great poet-dramatist, while Stratfordians and their biographers have a major problem. Although the controversy began in earnest around 1900, evidence and analysis acquired since then all tends to confirm that today's monument is not the original, but the result of a long series of alterations. Most Stratfordian biographers avoid the issue, among them: Stephen Greenblatt (2004), and notably in his collected works of Shakespeare for Norton (1997), Michael Wood (2003), Park Honan (1998), and Stanley Wells (1995). None mentions Dugdale's sketch or the engraving that Hollar made from it for Dugdale's book, even though Dugdale's sketch is the earliest eye-witness evidence of what the monument looked like. Dugdale was also the first to transcribe the abstruse epitaph on the monument. Stratfordian biographers, however, rarely try to explain what it means, even though it, too, is primary source evidence suggesting what contemporaries thought about the man for whom it was written and engraved. Evidently, they do not want to confront what the effigy and the epitaph might reveal about his identity. A few Stratfordian scholars have recognized and struggled with the problem. The first was probably the antiquarian John Britton. In 1816, he summarily dismissed Hollar's engraving in Dugdale's book as "tasteless and inaccurate" (13). In 1853, J.O. Halliwell-Phillipps called it "evidently too inaccurate to be of any authority" (Greenwood Problem 247 fn1).
Inaccurate compared to what?
Since those who allege inaccuracy have no hard evidence such as a photograph or explicit description of what the monument looked like in the early 1600s, their standard of accuracy, though unstated, can only be the effigy as per the 1800s figure, essentially the one we see today. That effigy, however, cannot be the standard of accuracy for something created two centuries earlier. Dugdale's sketch, the earliest eye-witness evidence (Fig. 1, above left), and Hollar's engraving, based on Dugdale's sketch (Fig. 2, above right), are primary-source historical evidence depicting what the original effigy looked like, i.e. a man with a sack. No pen. No paper. No cushion. Charlotte Carmichael Stopes, a Stratfordian, was the first to analyze the evidence in detail.