Welcome to the first "Who Wrote Shakespeare?" Video Contest!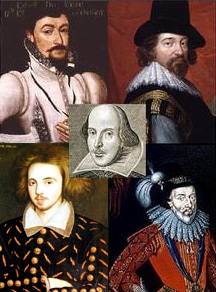 Although English professors insist that a man from a rural English town was the author of such plays as Hamlet, King Lear, and A Midsummer Night's Dream, over the years many people have proposed that someone else, such as Francis Bacon, Christopher Marlowe, or the Earl of Oxford, must have written the plays. Is there any basis to these theories, and will they ever go away?
We put out a call for 3-minute videos demonstrating your "take" on the authorship question, and you responded! We have posted the finalists in this year's competition. Grand prize winner will receive $1,000 and the second place award is $500.
Now it's up to the community to decide the winner. Watch the videos and cast your vote below. Voting is open September 1 – October 1. Winners will be announced at our 2017 conference.
Don't forget to subscribe by email using the form at right for all the latest news and discoveries!
Watch the videos, vote for your favorites, and share with your friends!