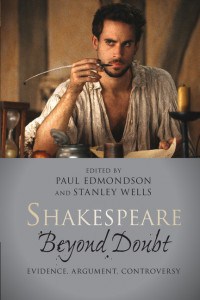 Tom Regnier delivers the Oxfordian rebuttal to Shakespeare Beyond Doubt, the collection of essays edited by Paul Edmondson and Stanley Wells.
Read the Oxfordian response here.
"But while over 70 documents exist about the Stratford man that were created during his life, not one of them identifies him as a writer of any kind. A businessman, yes, an occasional money lender, investor in a theatre company who may have acted some small parts, yes, but not a writer. No manuscript of a poem or play in his hand survives, not even a letter! There is no evidence that William Shakspere, the man from Stratford, ever owned a book, was ever paid for writing, or was referred to as a writer by anyone during his life or immediately after his death."
In response to Shakespeare Beyond Doubt, the Shakespeare Authorship Coalition and British author and researcher Alexander Waugh have published Shakespeare Beyond Doubt? Exposing an Industry in Denial. Read more about Shakespeare Beyond Doubt v. Shakespeare Beyond Doubt?