By Richard Waugaman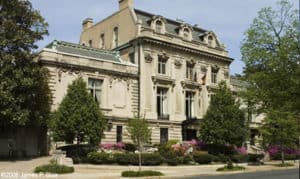 Shakespeare Oxford Fellowship 1st Vice President Tom Regnier gave a presentation on "Hamlet and the Law of Homicide: the Life of the Mind in Law and Art" at the Cosmos Club in Washington, D.C. on June 27, 2014. The Cosmos Club is a private social club, founded in 1878. Since its founding, the Club has elected as members individuals in virtually every profession that has anything to do with scholarship, creative genius or intellectual distinction. Over the years, many Club members have received Nobel Prizes, Pulitzer Prizes, and other accolades. The Cosmos Club puts on a variety of lectures to meet the interests of its diverse membership. Tom's talk was sponsored by the Shakespeare Group and the Legal Affairs Group.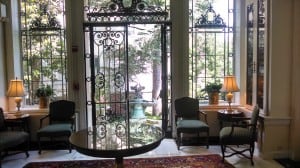 Tom demonstrated in his talk that the author of Hamlet was aware of changes that were occurring in the law in the late 16th and early 17th centuries, particularly the evolution away from the medieval view, which focused entirely on a person's actions, to the modern view, which also takes into account a person's state of mind. Tom pointed out that this development paralleled what was happening in Shakespeare's art: a greater emphasis on the inner life of the character than was seen in earlier literature.   One attendee said it was one of the two best talks he had heard at our monthly meetings in the past ten years. Tom succinctly summarized a wealth of information about the history of English law, as it relates to Hamlet. His presentation blended the best of scholarship and humor, keeping the audience fully engaged. In the Q&A discussion that followed, Tom and the audience members discussed legal issues in such plays as Merchant of Venice, Measure for Measure, and Henry V.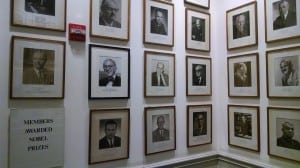 Tom's half-hour presentation did not directly address the authorship question, other than to demonstrate Shakespeare's deep understanding of the law. During the Q&A period, however, the second person to speak said he was a new member of the Cosmos Club, and an attorney. He said he did not know if we allowed discussion of the authorship question. He said he was an Oxfordian and asked if Tom thought that the author of Shakespeare's plays had to have had legal training. Tom replied that, after teaching a law school course on Shakespeare and the Law, he believed that this had to be the case. Res ipsa loquitur! (Or, Englished: the facts speak for themselves.)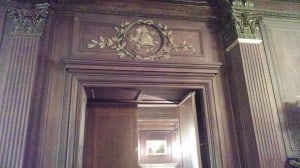 Oxfordians Roger Stritmatter and Shelly Maycock were in attendance as my guests. Roger made some pertinent points. Someone asked if Caroline Spurgeon cited the legal imagery in Shakespeare's work in her fine book, Shakespeare's Imagery and What It Tells Us. Roger said that she downplayed it, since her book was written in an effort to disprove the Baconian authorship theory, so she had no desire to demonstrate Shakespeare's intimate knowledge of the law.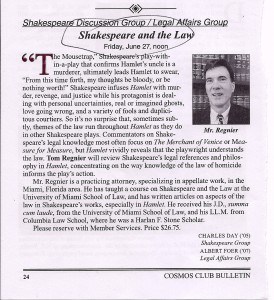 Tom commented afterwards: "It was an honor to speak at the Cosmos Club on a subject that I always enjoy sharing with audiences. The club members who attended were a wonderful audience—totally attentive and appreciative. They asked many good questions after my talk and we had a wonderful exchange of ideas. Many thanks to Rick Waugaman and the Cosmos Club for inviting me."
posted July 11, 2014