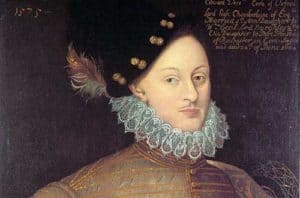 Edward de Vere, 17th Earl of Oxford, was a recognized poet and playwright of great talent, a patron of literature, the theatre and music, and close acquaintance with all of the personalities whose brilliance infused the Shakespearean canon with its own distinctive Elizabethan character: Arthur Golding, Bartholomew Clerke, Sir Philip Sidney, Edmund Spenser, Anthony Munday, John Lyly, Thomas Nashe, Thomas Watson, Gervase Markham, Robert Greene, Gabriel Harvey, Thomas Churchyard, William Byrd, Thomas Bedingfield, and many others, less well known to students of Elizabethan cultural history, who fell within his orbit and left their mark on the mature works of "Shakespeare." It is impossible in a short summary to do justice to the myriad reasons why, in the 20th century, both the Encyclopedia Britannica and the Shakespeare Folger Library concluded that de Vere was the most plausible alternative candidate to the official theory of Shakespeare's identity, and why so many informed and independent thinkers have concluded that he was, in fact, the true mind behind the mask of the bard. Here are a few of the most salient points:
In the Renaissance period in England a powerful stigma was attached to the publication of poetry and, especially, drama by courtiers–this was an unwritten honor code of the court. Sir Phillip Sidney's collected work, for example, only appeared in print after his untimely decease in 1586. Numerous published commentary from the Elizabethan period documents the existence of the taboo. Occasionally, it is true, the taboo was violated. For example, William Alexander, the Earl of Stirling, in 1603 published a play, The Tragedy Darius. But as late as the Caroline court (1625-1649), William Selden wrote: "'Tis ridiculous for a Lord to print Verses; 'tis well enough to make them to please himself, but to make them public, is foolish" (Selden's Table Talk, f.p. 1699, 116).
Both because of the stigma associated with print, and because publication of controversial material constituted a political risk, the use of pseudonyms and other forms of veiled publication was very common during the period in question, according to Taylor and Mosher in their standard reference work, The Encyclopedia of Anonyms and Cryptonyms. Even the use of living "front men" was, apparently, a common strategy, if we may trust the reaction of Queen Elizabeth herself to the publication of the inflammatory 1599 tract, The first part of the life and raigne of king Henrie IIII, published under the name of the historian John Hayward. In a July 11 1599 interrogation of Hayward, the Queen "argued that Hayward was pretending to be the author in order to sheild 'some more mischievous' person, and that he should be racked so that he might disclose the truth" (DNB on CD-Rom: emphasis added). The fact that Elizabeth so easily assumed that a living person, thought by all historians of the period to be the actual author of the work in question, was only serving as a scapegoat for a "more mischievous" concealed author certainly seems to indicate her knowledge of a common practice.
Despite frequent claims to the contrary, Oxford was known in the Elizabethan court as a prominent patron of the theatre — who, like Hamlet, used the theatre to advance his own, frequently controversial, political agenda. He was also known as a closeted poet and playwright, among "the best for comedy," as Francis Meres describes him in 1598. The Arte of English Poesie, the leading (and anonymous) work of literary criticism of the Elizabethan reign, lists Oxford first in a list of Noblemen "who have written commendably well as it would appear if their doings could be found out and made public with the rest" (Arber 75).
The Shakespeare plays and poems show that the author had specific knowledge of certain works of literature, prominent persons and events in Elizabeth's court, which de Vere had intimate knowledge of:

-Venus and Adonis (1593), the first work to bear the name "William Shakespeare," is dedicated to the 3rd Earl of Southampton, to whom Oxford's daughter Elizabeth was then engaged, on the obligation of her grandfather William Cecil. Southampton is also thought by most scholars, orthodox and Oxfordian alike, to be the "fair youth" of the Sonnets.

-Oxford's father-in-law and guardian, William Cecil, Lord Burghley, is satirized knowingly in Hamlet as Polonius. All historically astute and honest scholars concede this point, which is bolstered by a huge range of comparative detail. The parody is perhaps the most daring use of the stage for satiric purposes during the Elizabethan period. It is one of the strange anomalies of the Stratfordian paradigm that the author of such "slander" against the most powerful man in England, whose son Robert inherited his power on his death in 1598, should apparently escape even a slap on the wrist when other playwrights such as Tom Nashe or Ben Jonson were called before the inquisition of the Privy Council or imprisoned for less daring uses of the stage.

-Oxford's epistle dedicatory to Thomas Bedingfield's Cardanus Comfort (1573), a major source book for Hamlet, is strikingly Shakespearean in character, as Charles Wisner Barrell, in a 1946 article, was the first to observe.

-Christopher Hatton, Vice-Chamberlain, is satirized as Malvolio ("ill will to e.o.") in Twelfth Night. Hatton was one of Oxford's most highly placed enemies and a competitor for the romantic attention of the Queen c. 1574. The poesie employed by Maria and Toby to entrap Malvolio into his fantasy that Olivia loves him, "The Fortunate Unhappy" (2.5.164), as Bernard M. Ward first documented in 1928, is a stinging satiric inversion of Hatton's motto, as applied by Gabriel Harvey in his 1578 Audley End encomium, "Foelix Infortunatus" ("happy, although unfortunate").

The sonnets and the plays contain frequent references to events that are paralleled in Oxford's life.

-Oxford is the only "Shakespeare" who — as part of his ceremonial prerogatives as the Lord Great Chamberlain — actually "bore the canopy" (to which sonnet 125 alludes) over Queen Elizabeth.

-Oxford is the only Elizabethan writer– other than "Shakespeare" in Sonnet 121 — who is known to have used the strikingly audacious phrase, "I am that I am," in reference to himself.

-Polonius in Hamlet refers to "young men falling out at tennis," which most likely refers to the infamous Oxford-Sidney tennis-court quarrel.

-The Sonnet writer several times refers to his own lameness (37, 66, 89), as in "speak of my lameness and I straight will halt" (89: 3). A tradition that Shakespeare was lame originated very early, and is discussed extensively by George Russell French in his 1866 Shakespereana Genealogica (569-571). Because of injuries suffered in a duel c. 1583 Oxford was "a lame man" — which just might explain the lameness mentioned repeatedly by the author of the sonnets.

-In 1573, Oxford, as a young man, along with his companions, was reported as playing pranks and tricks on travellers along the same stretch of road "between Rochester and Gravesend" where Prince Hal's pals from the Boar's Head Tavern did likewise in Henry IV, Part 1. (The famous pub was connected to the Vere family symbolically, since the family crest featured a blue boar; furthermore de Vere's own players, according to surviving documents, customarily performed at the Boar's head).

-Oxford's "Echo" poem, written to his mistress Anne Vavasor c. 1581, bears a strong resemblance to the echo verses in Venus and Adonis and certain passages in Romeo and Juliet. Other poems by Oxford, for example his "kingdom, cottage or a grave" epigram, show similar uncanny resemblances to passages from Shakespeare.

-The details of Hamlet, one of "Shakespeare's" greatest achievements, are so similar to those of Oxford's life that students of Oxford's life regard the play as inherently autobiographical. As Washington Post reporter Don Oldenburg wrote, Oxford's life reads like a "rough draft" of Hamlet.

–Numerous passages from the Sonnets and plays make pointed punning reference to Oxford's heraldic motto, "Vero nihil verius" ("nothing truer than the truth"), for example Troilus: "After all comparisons of truth, as truth's authentic author to be cited"

Although no play published under Oxford's name has come down to us, his acknowledged early verse and his surviving letters contain forms, words, and phrases characteristic of Shakespeare.

-The six-line pentameter stanzas in Venus and Adonis described by "Shakespeare" as the "first heir of my invention," uncommon in the English verse of the 16th century but occur in early poetry of Edward de Vere in poems thick with Shakespearean idioms and figurative constructs.

-Extensive and persuasive studies of Oxford's and Shakespeare's word parallels in books such as William Plumer Fowler's Shakespeare Revealed in Oxford's Letters confirm a strong suspicion that Oxford had the most "Shakespearean" lexicon, linguistic patterns, and philosophy of any correspondent whose works survive from the period.

For a controversial author-courtier such as Oxford, writing scandalous satiric drama for the public stage, a pseudonym would have been essential. Consider the name: "William Shake-speare," and how fitting it was as a nom de plume for Oxford:

-Pallas Athena, patron goddess of ancient Athens, home of Greek theatre, and Renaissance goddess of the arts and literature,   was proverbially associated,  in the iconography and literature of Renaissance Europe, with the action of  of "spear-shaking."  As Henri Estienne explained  the popular belief in his Thesaurus Linguae Graecas (Geneva, 1572): "dicitur enim pallas quasi Vibratrix dea. & quidem hastae vibratrix, utpote bellicosa" = for Pallas is said (to be) like a shaking goddess. and indeed a shaker of the spear, inasmuch (as she is) warlike" (III.29.D.1-2).

-At court Oxford was known as "Spear-shaker" because of his skill at tournaments and his crest showing a lion brandishing a spear. In his 1578 Audley end address to Oxford in front of the court, Gabriel Harvey refers to him as one whose "vultus tela vibrat" — his "will shakes speares."

-Thomas Nashe refers to his patron Oxford as "Gentle Master William" and a "Sacred ox" in 1592. In the same pamphlet, Nashe also mentions "his very friend Master Apis Lapis" (stoned bull or ox) and "Will Monox" — references which Charles Wisner Barrell as long ago as 1944 analyzed as being to Oxford.

The events of 1604-1623 and circumstances of the posthumous publication of the Shakespearean oeuvre in the 1623 folio lend strong support to the Oxfordian theory.

– With the exception of a spate of publication of plays, and the Sonnets, in the years 1608-9, when the Countess of Oxford sold her estate at Hackney, no new Shakespearean plays were published after 1604 until 1621, when Othello appeared in quarto.

-Following Oxford's death in June 1604 King James had eight Shakespeare plays produced at court, apparently as a final tribute to the deceased author. Moreover, David L. Roper has recently observed a curious contradiction related to this episode:

"In that same year, with de Vere having recently died, the King turned to Ben Jonson, and commissioned him to write masques for the Court's entertainment. In the years that followed, and by collaborating with Inigo Jones for scenery, Jonson went on to produce upwards of thirty more masques. The man from Stratford contributed nothing – nor was he asked to. Furthermore, despite the interest and enjoyment derived by James from Shakespeare's plays, the King never sought, nor even once singled-out the man from Stratford."

The reason, we submit, for the failure of King James to patronize the bard should by now be readily apparent: unlike Ben Jonson, he was already dead.

-When Oxford's widow died nine years later (1612) a group of Shakespeare plays (fourteen in this case) were produced, again apparently in tribute to the deceased author.

-When the Sonnets were published in 1609, they refer to the author as "ever-living" — an epithet which is applied almost exclusively as an honorific to a deceased person.

-All scholars agree that the Sonnets, although not published until five years after de Vere's death, were completed before 1604. They refer in very pointed ways to the imprisonment of the fair youth, the Earl of Southampton, in the tower of London following the aborted 1601 Essex Rebellion and to the death of Queen Elizabeth in the spring of 1603. No such references to events after 1604 can be found in the Sonnets.

-In Sonnet 107, which alludes to the passing of the Queen, the author states that "death to me subscribes," indicating his awareness of his own imminent death. Oxford died June 24 1604, slightly more than a year later that Elizabeth.

-The Shakespeare First Folio was patronized by Oxford's son-in-law Phillip Herbert, Earl of Montgomery, and his brother, Lord Chamberlain William Herbert, Earl of Pembroke. The Folio was an expensive and risky publication, which was most likely subsidized by these two powerful and wealthy patrons.

-Ben Jonson's verses in the Folio pun on the name "Shakespeare" and praise the author's

Well-turned and true filed lines
In each of which he seems to shake a lance
As brandisht in the eyes of ignorance

The verses indicate Jonson's conscious awareness, indicated in many other subtle ways in the prefatory matter to the Folio, that the entire publication was an elaborate and well-contrived political hoax engineered by the four closely allied families of Pembroke, Montgomery, Stanley and Vere.