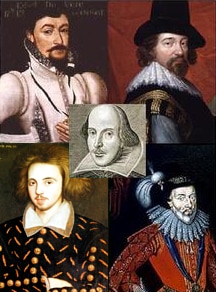 The Shakespeare Oxford Fellowship has launched a video contest on the topic, "Who Wrote Shakespeare?" with a first prize of $1,000, a second prize of $500, and prizes of one-year memberships in the SOF to up to 16 contestants who make it to the final round.
The mission of the "Who Wrote Shakespeare?" Video Contest is to promote evidence that supports reasonable doubt about the Shakespeare authorship and encourages its discussion. The contest is designed to attract new viewers to its website to learn more about the authorship question. Videos by the 16 Finalists will be available for public voting, which we hope will arouse even more interest in authorship. Share this link with your friends by email and social media: https://filmfreeway.com/festival/WhoWroteShakespeareVideoContest
Videos must be a maximum of 3 minutes in length and must present an issue that promotes discussion of the Shakespeare authorship question in a format that is entertaining, engaging, and witty.
Channel your muse of fire and apply by July 31!
DEADLINE FOR SUBMISSIONS IS JULY 31, 2017. Finalists will be announced on September 1, 2017 and their videos will be available for public viewing and voting from September 1, 2017 to October 1, 2017. The winners will be announced publicly on the SOF website on October 15, 2017.
For Complete Contest Rules and to Enter, click on the button below:
"Who Wrote Shakespeare?" Contest Rules