October 12-15, 2017 | Chicago, Illinois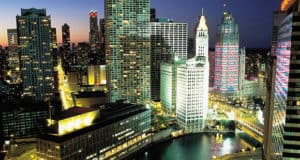 The Shakespeare Oxford Fellowship announces the 2017 Annual Conference, to be held from Thursday, October 12 to Sunday, October 15, 2017 at the beautiful Kasbeer Hall at Loyola University's Corboy Law Center. The SOF has arranged discounted rooms at the nearby Chicago Marriott Downtown Magnificent Mile. See below for lodging and venue details.
The conference schedule will be posted in summer 2017. Meantime, please consider presenting a talk – read our Call for Papers article for more information.
---
REGISTER

Conference Admission   Options for full or partial attendance.
Conference registration is $250 for non-members, $225 for members, and includes all conference materials, numerous coffee/tea/danish breaks over the four days, the closing banquet on Sunday, and one additional lunch.
Purchase by August 31 through the SOF website or by mail for an additional $25 discount.
Students with valid ID may attend conference presentations at no charge (meals not included).
---

VENUE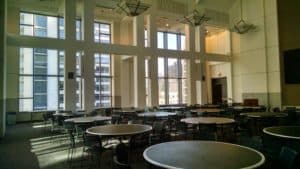 The conference itself will take place at the beautiful Kasbeer Hall at Loyola University's Corboy Law Center, 25 E Pearson St, Chicago, IL 60611. It is an easy 10-minute walk from the hotel or a modest and shareable cab ride. Kasbeer Hall is a modern and spacious venue with floor-to-ceiling grand windows, and an abundance of natural light. Located on the 15th floor of the Corboy Law Center, the venue boasts great city views. SOF is not affiliated with Loyola University, which is not a sponsor or co-sponsor of this conference.
LODGING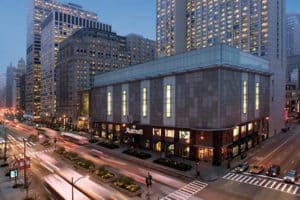 We have reserved a block of rooms at the Chicago Marriott Downtown Magnificent Mile (540 Michigan Avenue). Room rates at the Marriott have a published rate of over $400 a night. SOF, however, is offering conference attendees a significantly reduced rate of $179 a night plus tax (single or double room).
Marriott's special group reservation line is at 877-303-0104. They will ask you which city you are booking for and the name of the group. You can also book directly online at our special webpage: https://aws.passkey.com/e/49043966. Reservations are available now by phone or through the website and can be changed or cancelled up to a week before.
If you are interested in arriving a day early or staying an extra night, you can get the same rate for October 11th and 15th as well. Our rate also includes in-room Wi-Fi for $1 a night (usually $14.95). And for anyone joining the Marriott Rewards program (it is free to join), even the $1 a night charge will be waived. So we recommend that you join Marriott Rewards online even before booking.
Note: Because the special rate covers single or double rooms, the online reservation may show only one person booked even if the room is being booked for two people.  Not to worry. If you book a room, the rate will be good for two.
MORE INFORMATION
For additional information, contact Conference Committee Chair Richard Joyrich at rjoyrich@aol.com.